You made the decision to pursue a career in accounting.  Great choice!  Accounting is an interesting area rife with opportunities for new graduates. Your first major decision is complete. On to the next major decision – finding that perfect fit – and no, we don't mean a new pair of shoes. Although it might sound cliché, it is important to take some time to really soul search and determine the type of accounting firm and professional environment that will be right for you. If you haven't given it much consideration, you may find yourself behind the eight ball.
It is never too early to start considering your ideal professional environment. It may seem hard to believe, but recruiting for public accounting firms can start about two years prior to a recruit's year of graduation. So that raises the question, where do you begin?
Let's Start with a Few Basics
Externships and Internships are a great way to gain real-world experience and to find out what it might be like to work with a potential employer. After having this kind of experience, it may solidify your initial thoughts on the type of firm you see yourself in or have you rethink what you are really looking for in that first job.
What is an Externship?
An externship is a one- to three-day program offered by public accounting firms to college students during the summer and typically two years before their scheduled graduation. It is usually held at the public accounting firm's office and focuses on getting to know the firm, its client base, and socializing with firm employees at all levels.
What is an Internship?
Many public accounting firms will offer a summer internship program that ranges from four to eight weeks and gives rising college juniors or seniors an opportunity to experience what it is like to work for the firm as a new staff member, albeit over a shorter amount of time, and get a feel for the company culture.
Externships and internships are also the perfect opportunity to "try on the firm for size." But don't forget, they are also "trying you on for size" as well, while evaluating how you would fit in as a permanent member of their team. That means: think of your time as a long, in-depth interview – take it seriously and make the most of the experience.
Considerations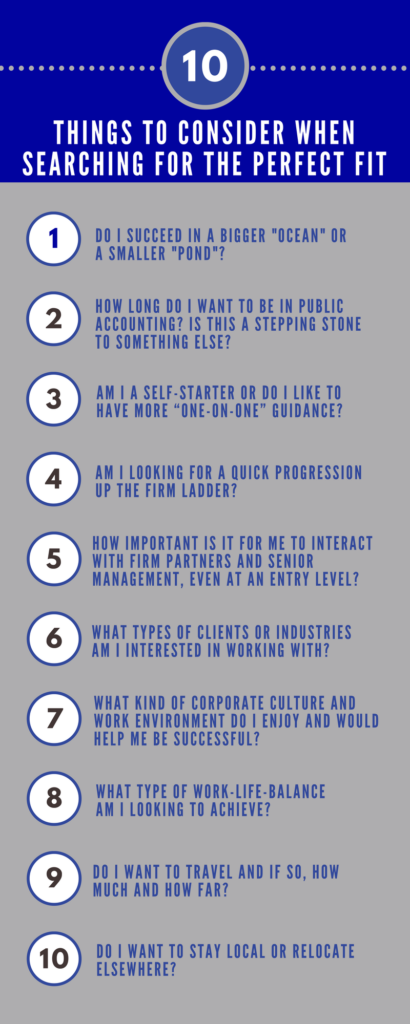 There are many factors to consider when trying to figure out the "perfect fit" for you. Start by asking yourself a few questions:
Do I succeed in a bigger "ocean" or a smaller "pond?"
How long do I want to be in public accounting? Is this a stepping stone to something else?
Am I a self-starter or do I like to have more one-on-one guidance?
Am I looking for a quick progression up the firm ladder?
How important is it for me to interact with firm partners and senior management, even in an entry-level position?
What types of clients or industries am I interested working with?
What kind of corporate culture and work environment do I enjoy and would help me be successful?
What type of work-life-balance am I looking to achieve?
Do I want to travel and if so, how much and how far?
Do I want to stay local or relocate elsewhere?
Your answers to these questions can materially impact your decision to seek a small, medium, large or a big four firm as a best fit.
My Journey
Here is a look into my own personal thought process 16 years ago when I was trying to find my own "perfect fit" in the accounting world:
First, I determined that I wanted to at least make it to the level of public accountant manager. I also knew that I tended to perform better in a smaller pond of people.  While I considered myself to be a "self-starter", I also liked to have access to one-on-one guidance when needed.
Because I had changed my major from music to business during my senior year and stayed two additional years to achieve my BA, I felt behind and therefore, wanted an opportunity that would offer a quick progression up the firm ladder.
It was also important for me to find I a firm that allowed me to interact with and learn from the firm's partners and senior management. I knew that this would help me achieve my career goals. Having clear insight into my preferences, personality, and goals helped me narrow down a target list of ten firms that could be that "perfect fit".
Narrowing Down
Now, what I'm about to say is going to be shocking so brace yourselves. Each of those ten firms audit cash, liabilities, and expenses pretty much the same way. They even prepare tax returns in a similar manner. I know, it might seem crazy, but it is true. So, how was I supposed to choose between each of them?
That is where answers to some of the less tangible questions came into play, such as, will I like the people I will be working with? Do I fit in with their work style, corporate culture, and the type of work they do?
You will spend a significant amount of time with colleagues, so it is essential that you have an initial good feeling and rapport with the firm and its people. Tax season is no joke and you will spend more time with your "work family" than your own.
So, you see, it truly is all about trying to find that "perfect fit."  And, more importantly, it is out there if you are willing to do some honest thinking around some of these questions and considerations.
In my own career journey, I had the opportunity to visit firms that I knew, without hesitation, were not for me – even though the firm was considered "top-notch." Despite how good the firms may have appeared on paper, I knew that they were not the fit for my personality or my career goals. In contrast, when I walked into the firm I started with — and continue to work at today — I knew, without a doubt, that this was the right place for me.  Not only has it been a place to make my mark as a manager and eventually an equity partner in the firm, but a place to gain mentorship and lifelong friends.
Therefore, the bottom line is: take advantage of the opportunities available for externships and internships. They will give you insight into whether a firm is the "perfect fit" for you.
Written By: Mary Margaret Prange, CPA | Partner