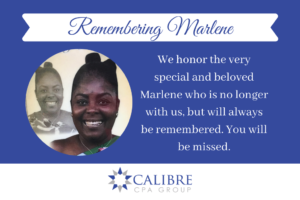 At Calibre CPA Group, when we lose an employee and friend, we all feel the impact. It is with great sadness that we say goodbye to Marlene M. Garrett, who passed away on December 3, 2019. Marlene worked with us for the past two years and she will remain in our hearts forever.
A resident of Brooklyn, NY, Marlene had an infectious smile and enjoyed all things in life, especially music and dancing. Friends and co-workers remember her kind, loving, fun, and happy demeanor. Marlene was a consummate peacemaker, bringing people together with her collaborative spirit. In the office, she was always eager to learn and share her own knowledge with others. Many regarded Marlene as an exceptional listener who always made time for others.
Marlene was laid to rest in her native home, Grenada.
We're taking this time to honor the very special and beloved Marlene who is no longer with us, but will always be remembered. You will be missed.